Action Ants Fun Club - Leading The Way
Catering for children 4 to 10 years old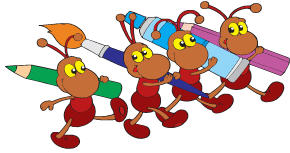 At Funbugs Chidcare we recognise the need for quality Afterschool care. We realise that the term 'afterschool' means after school and aim to provide a home from home environment for the children in our care.
Our service enables the children to relax and have fun after a more structured day in school. We are aware that a certain amount of homework needs to be accomplished and there is a supervised homework period for the children.
If your child attends our service before school, breakfast is be provided and we have a drop-off and collection service to Rathmore National School. On returning to us, the children are provided with a freshly cooked hot dinner and later in the evening a snack is also offered
During the evening the children are able to relax and rest if they wish to do so.
Take part in games and activities both indoor and outdoor.
Play freely if they do not wish to take part in planned activites (children will be encouraged to take part but not made to).
Throughout the year we will introduce extra curricular activities, such as sowing, arts and crafts and sports activities.

Full hot dinner provided by our in house Chef
During school holidays we offer care facilities for school age children
Please contact us to discuss your options, we would be delighted to facilitate you.