Grasshoppers - Paving Our Own Path
Catering for children 3 to 5 years old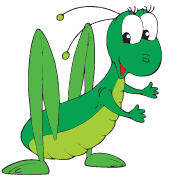 In our Montessori Education Room we at Funbugs Childcare are introducing a structure which is a balance between learning through play, Montessori and educational activities which will help your child prepare for school. As with Montessori Education, we are very conscious that children learn best through doing, and believe that real experiences are what children learn from most easily.
"I hear and I forget, I see and I remember, I do and I understand".
At this stage in a child's development they are able to communicate more clearly and become less frustrated and in turn will be more interested in and able to part-take in more activities.
While still providing learning opportunities through play using imaginative, constructive, manipulative, outdoor & free play and arts and crafts, the children's morning is based around the Montessori method, introducing them to new activities that promote independence, hand/eye co-ordination, fine motor skills, preparation for writing and reading.
Our Montessori and Preschool Education Curriculum also includes:
Nature and science activities (age appropriate)
Writing activities to promote pencil control (colouring, drawing, join the dots, drawing numbers, writing their names)
Baking with our in-house chef
Games and activities to promote concentration (age appropriate)
Activities and games to further develop childrens understanding of numbers, colours, shapes etc.
Cultural activities (continents, flags, people, foods, animals, plants, currency, etc.)
Activities that promote working in groups and social interactions within a group.
Children learn at different speeds and the nature of our teaching allows us to assess how each child is developing as an individual.
Introduction to basic Irish language
ECCE SCHEME 2018/2019
The scheme runs over a 38 week basis and children are entitled to attend during term time only.
However Optional extras are available if you wish for your child to attend outside of term time.
Funbugs Childcare fees apply if parents wish their children to attend during mid-terms / holidays.
Our ECCE Terms will run alongside Rathmore National School's:
Mid-term break (Halloween)
Christmas Holidays
Mid-term break (February)
Easter Holidays
Summer Holidays