Ladybirds - Tender Loving Care
Catering for children from 12 months old.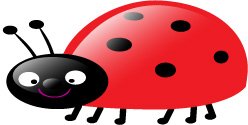 At Funbugs Childcare we understand that finding and entrusting your baby into a creche for the first time is very difficult and may be hard for you. This is where we introduce you to our settling programme. This programme is offered to make this transition a little easier for both you and your baby. During this time you and your baby will get to know their primary care giver in the creche, who in turn will get to know your needs as parent and most importantly the needs of your baby.
The primary care giver will become an important person to you and your baby and a bond will form with all involved in this transitional period. We will talk to you in great detail about all aspects of our care and we will try to accommodate any special requests you may have. Our Staff will provide you with a Daily Report sheet detailing all nutrition, sleeping, medical administration and nappy changing so that you can monitor your baby's routine closely.
We recognise that from the moment a baby is born they are learning from the environment around them. At Funbugs Childcare we will provide an environment that will meet all your baby's needs:
Encourage the development of a strong bond with care givers to promote a sense of trust and security.

Aid in developing their fine and gross motor skills (holding items, rolling, pulling, standing and crawling).

Providing an environment with activities and materials that will encourage your baby's natural curiosity and in turn providing your baby with further learning experiences.

Our staff aid in the development of your childs communication skills by providing them with the attention required for healthy social interactions. They do this through talking with the babies, action songs and nursery rhymes, age appropriate stories and general interations like smiling, hugging, laughing and playing games and activities.

We ensure that the babies in our care have a happy and active environment to grow and thrive in.

At Funbugs Childcare our baby care room is spacious and self-contained, to allow our team to give your baby the individual care and attention they need at this early stage.
The Ladybird room is seperate from the other rooms in the centre, containing its own kitchen and nappy-changing facility, thus allowing our staff to give full attention to your little Ladybird.